Who I Am and Why I Became a Copywriter
My Story
Like any other copywriter, I started out with zero clients. At the outset, I followed the advice I read on the web, I attended hundred-dollar courses on copywriting, and I even bought expensive advertisements to draw in clients. Yet I never got a client who would pay anything more than a couple hundred dollars per sales letter.
I figured the problem was my copywriting ability—perhaps I wasn't being persuasive enough. So I bought more copywriting books, attended more marketing training programs, and starting listening to motivational speakers. None of this helped me get high-paying clients.
It's hard telling people you have a copywriting business when you know you're only making chump change. Running an unsuccessful business changes who you are. It drains your confidence. It makes you feel like a loser. It turns you into a fool, chasing a dream you'll probably never achieve.
But I had to pay graduate school tuition. I had to pay rent. I had to eat. I wasn't about to give up. At the end of my rope, I forced myself to forget all the "conventional wisdom" I learned about copywriting. I told myself I wouldn't buy anymore copywriting resources that cost over a hundred dollars. Instead, I went back to the basics of statistics and psychology, and I finally hit gold. Suddenly, companies with multimillion-dollar revenues were asking me to write their copy!
The key insight was in knowing the market. It was about learning how the copywriter market is saturated with low-level copywriters devaluing good copy. When I looked into the statistics, I found that only 7% of copywriters find work through prospecting. That's not a good number to base your career on.
What I found out was this: Most copywriters are using the same techniques to get clients. And when everyone is doing the same thing, only the people who go against the stream prevail.
You can swim against the stream if you know what that 7% of successful copywriters have that others don't. Or you can choose not to swim and change the stream to bring clients to you. I've gotten high-paying clients through both methods!
I went from having to struggle for $300-dollar sales letters to being a copywriter who could sit back and take my pick of high-paying clients. Finding clients became so easy that I quit my $30-an-hour teaching position to do this full-time—something I never dreamed would happen when I first set up shop.
The System
A system of finding clients that actually works needs to answer three important questions:
How do you make yourself stand out in the ever-growing crowd of copywriters?
How do you find a market in which you can gain a steady stream of clients?
Why do some copywriters get $100 for their sales letters while others get over $1,000?
If your current system can't answer these questions, then it won't work! Those 7% of successful copywriters are those who have clear, unchanging answers for these three questions.
Let's take a look at each of these questions:
How do you make yourself stand out in the ever-growing crowd of copywriters?
I started my career as Damon Verial: The Copywriter. The only thing that made me different was my name, but that's not saying much.
If you take the viewpoint of a prospect, why would you choose me over any other of the copywriters in the ever-expanding sea of copywriters? I had no characteristic features. I was like a fat girl in a bar—only a drunk client would bother taking me home.
A successful copywriter needs to stand out. If you can't make a prospect do a double-take, you're doomed to failure. Winners stand out. Winners are unique.
How do you find a market in which you can gain a steady stream of clients?
Guess what? There is no "Copywriting Market." If you think there is, then you're probably not going to get many clients—especially high-paying clients.
When I started my career, I entered the "Copywriting Market." I sent emails and made phone calls to companies that "needed copy." But… every company "needs copy." My attempt to find clients was unfocused.
Entering the "Copywriting Market" is like entering the "Food Market." Can you think of a "Food Company?" I bet you can think of a "Cookie Company" and a "Peanut Butter Company," but when you think of the "Food Company," does anything come to mind? Anything at all?
Therein lies the problem. If your target market is "people who need copywriters," you're barking up a tree that's so large, you can't even recognize it as a tree. You need a smaller tree—a tree you can define.
After I figured out there was a market suited for me, my search for work became laser-focused, which resulted in a waterfall of new projects. Too many copywriters are looking for "copywriting projects" and not for projects that actually exist.
Why do some copywriters get $100 for their sales letters while others get over $1,000?
My first few clients excited me: They were willing to pay me to write sales copy! That part was exciting, but the amount certainly wasn't. $10 for a adwords ad; $200 for a series of email messages; $300 for a sales letter—what happened to the thousands of dollars the copywriting courses I took promised me!?
Perhaps I wasn't coming across professional? Perhaps my clients didn't have faith in my copywriting skill? I ended up taking on free projects to build up my portfolio, but a bigger portfolio didn't equal a bigger paycheck.
What was I doing wrong?
Eventually I figured it out: What a client pays you has nothing to do with your copywriting skill and everything to do with how you negotiate. If you don't know how to talk to your clients about a project, you're never going to get thousands of dollars for a sales letter, even if you client is rich.
How do you start your negotiations? If it is anything like I used to do you're making a huge mistake! Rich copywriters actually have more than just copywriting skills—they have high-level negotiating skills, too.
Once I figured out how to negotiate, I was turning normal clients into high-paying clients. I was turning one paycheck into two!
What's in this Guide?
It would be impractical to list everything that's in the guide, but here's a quick look at what you will learn:
Methods to decide on the clients to pursue (finding your market)
Ways to successfully find clients without investing time or money (the active method)
A guide to setting up a client-attraction method (the passive method)
My secret list of places to find clients online (keep these to yourself, please)
Techniques for agreeing upon high-paying projects (negotiating skills)
Legal advice on dealing with unfamiliar clients (contracts, NDAs, etc.)
Tips on how to decide how much to charge your clients (optimizing your income)
Guidelines on how to avoid the common mistakes of new copywriters (beating the learning curve)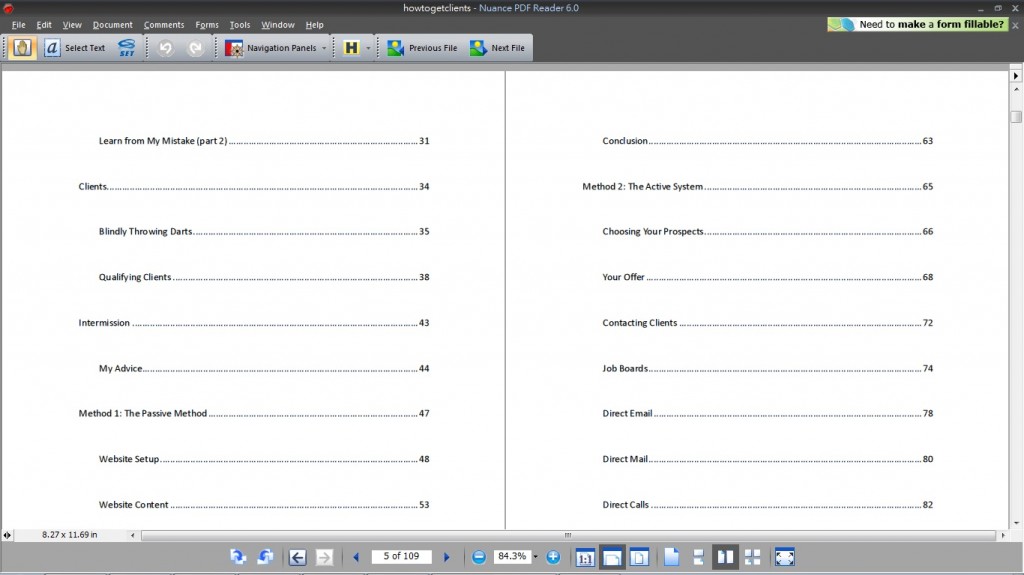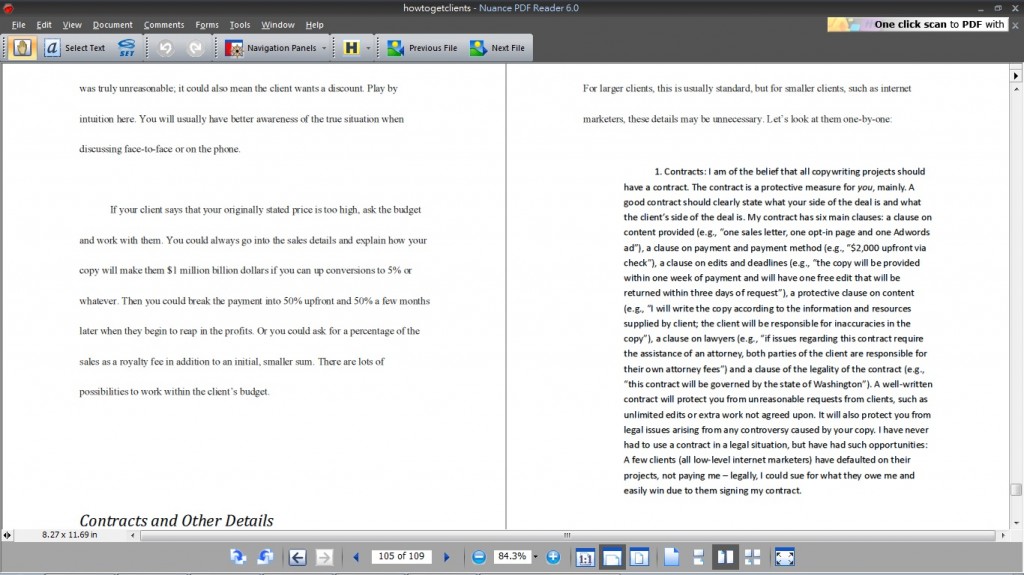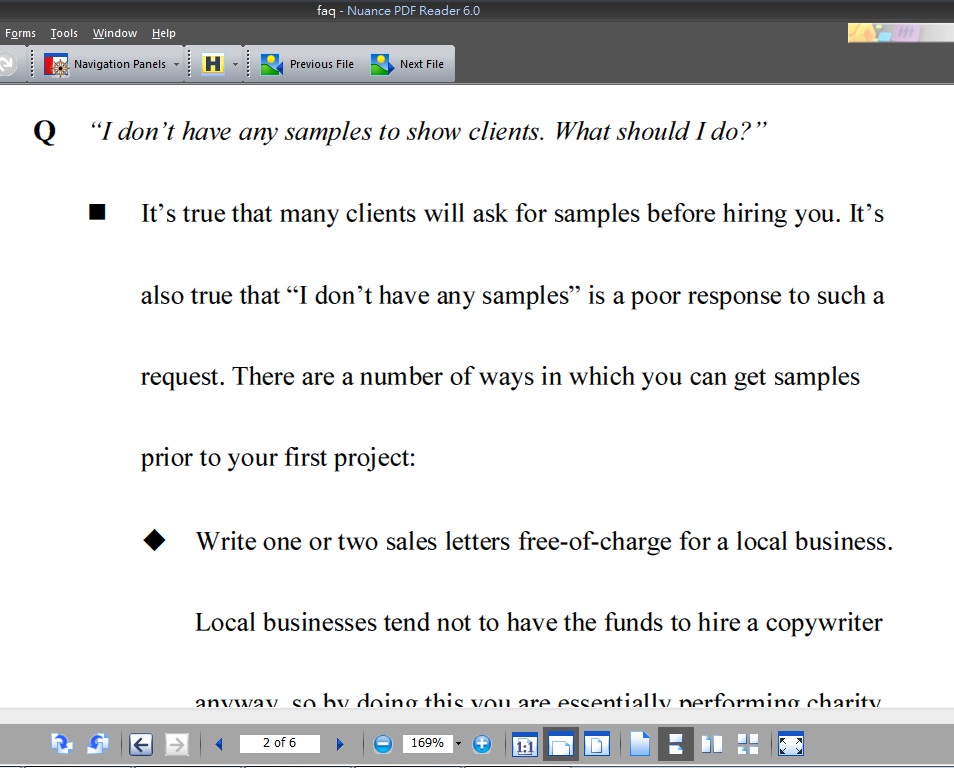 Bonuses
Also, I've added a few bonuses:
Bonus #1: An accompanying workbook, filled with assignments. This workbook will keep you on track. By working through this workbook, you will be pushing yourself to become active in building your copywriting business. By the time you finish this workbook, you should have your first client. Mere information is not enough to get high-paying clients: the successful act on what they know.
Bonus #2: My checklist for building a successful copywriting business. This will help you keep on track through the course and remind you of the main aspects of getting high-paying clients.
Bonus #3: Frequently Asked Questions from aspiring copywriters. I answer common questions that new copywriters ask when they encounter key points in their business. Learn from the mistakes of others by knowing the answers that even many successful copywriters do not know.
Bonus #4: One half hour of consulting for free. This would cost you $110 normally. But I want to make sure you don't have any problems using the information contained in this guide. If you need assistance on any of the tasks assigned in this guide, just schedule a time for a telephone consultation with me, absolutely free-of-charge.
These included bonuses are valued at $199. But the whole guide, bonuses included, is available for a limited time at only $49.99: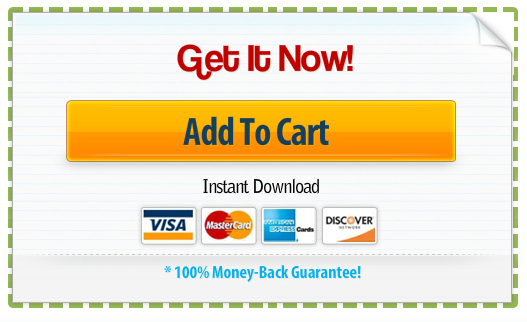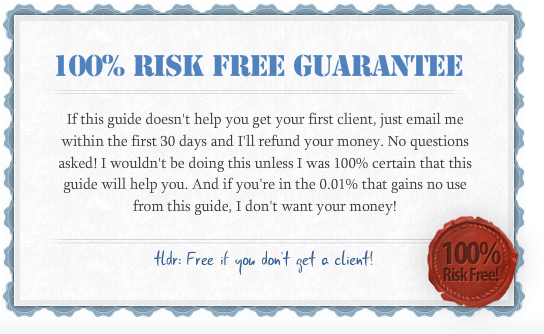 What People Are Saying:
The best part is that it comes with a workbook that goes chapter by chapter so you can formulate your personal strategy based on what you're reading in the E-book. Now that I think about it, the pair of the E-book & workbook together could pretty much be a college course. Damon, here, saved you a bunch of time and gave you all the best subject-matter, no busy work included.
-Kelly (see her entire review by clicking here)
I was so eager to begin, I have already read through 30 pages :). Found myself alternating between nodding happily and pausing to analyze my own approach to this business.
-Radhika (see her entire review by clicking here)
Using this guide was like having someone walk me through the process of getting my first client. Thanks!
-Coralie
I absolutely rushed through this guide since I got it. I finally got my first client today. This was exactly what I needed. Before this guide, I tried using some advice I got online from blogs and websites, but none of it was as good as your guide. The workbook really stopped me from just reading and pushed me to actually do some of the stuff I normally would have skipped. This is like a bible to me now. I wish I bought this guide earlier. I'll let you know how my career takes off in the future. Thanks for everything, Damon!
-Michael
I got my first client today! This guide paid off. I can't thank you enough!
-Winfred
Your guide has been a huge help. I started reading it while I was looking for a new job and ended up going all forward with copywriting. I followed your checklist and workbook to get where I am now. Thanks!
-Konrad
Your guide really did help me get my first client. I had a few bites before but never any real client. I think the negotiating part in your book is the best. I followed your advice and finally ended up solidifying a deal. Thank you.
-Simon